This Could Be The Ideal Security Solution For Your Business
Hacking and ransomware continue to exploit vulnerabilities in company networks and information systems. Many Information Technology teams are understaffed and IT programs under budgeted as the pandemic has turned businesses upside down.
Against this backdrop, the exceptional value of a part-time or virtual Chief Information Security Officer has never been more compelling.
The CISO, CIO, and CTO
The Chief Information Security Officer, Chief Information Officer, and Chief Technology Officer are often one and the same in an organization of moderate size. The larger the enterprise, the more likely these will be separate roles in the C-suite.
In most businesses, the role of a CIO or CTO is to implement and manage new technologies and information systems. These may include communications systems, software applications, databases, cloud services, and similar technologies and systems.
The CISO is responsible for information security specifically, which often requires input into new technology, software, and system purchases before they are approved. It also requires keeping up with the latest security exploits, security trends, and security solutions.
Even with a CISO, larger enterprises often have permanent full-time staff who are overwhelmed and pulled in too many directions. In addition, an enterprise that is in between CISOs may be exposed to unnecessary risks during the executive search.
Smaller companies may not have any of these C-roles. Instead, a Chief Operations Officer or even a General Manager may be responsible for security, information, and technology. This can present a serious challenge to executives who are already juggling more functions than they can effectively manage.
The part-time or virtual CISO was created to address these and other needs.
What is a Virtual CISO?
What exactly is a Virtual CISO, or vCISO?
Very simply, a vCISO is a third-party resource or service that manages a company's cybersecurity program. The goal is to help protect the company's information from hackers, ransomware, insider security threats, internal and external vulnerabilities, and other cybercriminal exploits.
The Role of a vCISO
One role of a vCISO is to build security protocols around any new technology or tool being introduced to the business. This includes auditing and testing, which should be done independently from the CIO or CTO.
Another key role is to ensure that access to critical data is managed securely and in accordance with best practices for the particular industry. Critical data may encompass intellectual property, payroll data, customer information, billing and payment data, personnel information, and other data and records.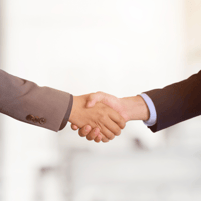 It doesn't matter whether data is stored inhouse or in a cloud, or whether it is data in transit or at rest, or whether it is your data or your clients' data. All of it must be secured, and a professional vCISO knows how to accomplish that properly.
Another high-value vCISO service is security strategic planning, ideally for 90-day, 12-month, and 3-year outlooks.
These additional services are also important:
Security corrective action planning
Security awareness program development
Compliance/Governance programming
Risk status reporting
Incident response program development.
When a security crisis occurs in your business, a vCISO can step in with a level head, expert staff and resources, and the benefit of years of security experience. These advantages will reduce the negative impacts of the crisis and help your business return to normalcy in a timely manner.
Virtual CISO Options
In addition to exceptional value, a part-time or virtual CISO offers exceptional flexibility in terms of scope and pricing.
The service may deliver all of the components necessary to implement a complete security and governance program. Or it may be customized to meet a specific need or needs by delivering selected security elements.
The service may be provided on a subscription basis, where the business contracts for vCISO services for a year or other specific timeframe.
The vCISO service may be provided on a project basis, such as implementing

a NIST cybersecurity framework or conducting a

security risk assessment

.
Alternatively, a fixed-fee, deliverable-based model enables a business to obtain a specific deliverable, such as an incident response plan, for a set price.
In addition, vCISO programs often offer a contingency option, whereby the business can purchase a segment of unassigned hours. These hours can be used on an ad hoc basis to address specific needs that may arise unexpectedly and that are outside the scope of the project or subscription.
The type of vCISO service that is most suitable for your business will depend on several factors. These include urgency (such as active compliance violations or severe vulnerabilities demanding immediate attention), budgetary considerations, timing or scheduling factors, and other variables that may be unique to your business.
Exceptional Benefits of vCISO Service
A virtual CISO, or a part-time CISO, offers many advantages. A large enterprise can use a vCISO to augment permanent full-time management who may be stretched too thin. An enterprise who is filling an open CISO position can take advantage of a virtual CISO to make sure nothing serious falls through the cracks in the interim.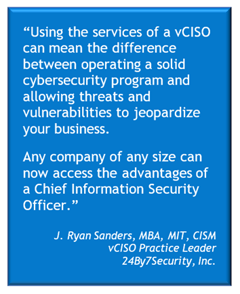 Businesses of moderate to smaller scale will benefit from this service as a C-level adjunct to their in-house IT team, which may be led by a director or manager depending on company size.
In all these scenarios and others, several important benefits are virtually guaranteed.
Cost-Effectiveness. The cost to employ a Chief Information Security Officer on a full-time, permanent basis can be high, especially when signing bonus, stock options, performance incentives, and other executive perks are added to the annual C-level salary. Retaining a vCISO enables you to have an experienced, certified CISO for a fraction of the cost of hiring a permanent, full-time executive.
Fresh Perspective. Retaining the services of a vCISO brings the value of a fresh pair of eyes to your cybersecurity program. Whether your vCISO visits once a month, once a quarter, or on some other schedule, he or she will be able to make observations about important issues that could go unnoticed by a full-time counterpart who may be distracted by daily fire drills.
Predictable Cost. Several pricing models are available for vCISO services. The popular fixed-fee, the deliverable-based model guarantees that the contracted work will be completed for a fixed cost. This in turn enables predictable budgeting and scheduling.
Complete Team. When you retain a vCISO from a full-service cybersecurity firm, you automatically enjoy the expertise and experience of their entire cybersecurity and compliance team. Each team member carries various professional certifications and may have different areas of specialization. This brings additional depth and breadth to your security program.
Another benefit that may be extremely important, depending on why you are seeking the services of a vCISO, is immediate availability. A full-service cybersecurity firm should be able to begin your program in short order. 24By7Security can usually get started in as little as two weeks, for example.
Summary
Using the services of a part-time or virtual Chief Information Security Officer can mean the difference between operating a solid cybersecurity program and allowing threats and vulnerabilities to jeopardize your business. Any business of any size can now access the advantages of a Chief Information Security Officer.
A vCISO can perform the functions of a permanent CISO for a fraction of the cost. Several pricing models are available to meet most needs. The model best suited to your business will depend on the urgency driving your request, your budget, and scheduling factors, among others. Regardless of why you need a vCISO, expect to be very pleasantly surprised by the benefits, which include cost-effectiveness, fresh security perspectives, and the assets of a larger team.
Ready to get started with your vCISO program? Contact us today!