New Antitrust Legislation to End Big Tech Bad Behavior
Exciting new legislation underway in the United States and the European Union is being driven by identical concerns over supersized technology companies and their effects on the free market. Big Tech has also come under fire for security, privacy, and competitive issues related to the mountains of personal data they collect, maintain and use.
Not since the U.S. launched its original trust-busting initiative, in the late 1800s, have we witnessed a greater level of antitrust legislative activity. It is historic, it is exciting, and it is overdue.
The Big Four of Big Tech
Modern-day antitrust legislation is fueled by growing concerns over the enormity and power of Amazon, Apple, Facebook, and Google. Operating virtually autonomously, these technology giants wield huge market influence and are subject to scant government oversight.
In response, governments on both sides of the Atlantic have drafted legislation that is currently undergoing active review preparatory to approval. The shared intention is to enact modernized, digital-era antitrust legislation in 2022 and begin to seriously regulate Big Tech.
The four Big Tech companies have been on the radar of U.S. and EU regulators for several years. According to an article on CNET:
Amazon controls 38% of online sales in the U.S. and maintains data on other retailers who use its giant platform.
Apple's App Store is a critically important platform for software developers looking to provide applications and tools to iPhone and iPad users.
Facebook is the largest of all social networks, with a user base roughly the size of the world's two most populous countries, China and India, combined.
Google processes about 90% of all web searches globally.
The four companies wield a staggering amount of power across the globe and together are worth about $6 trillion.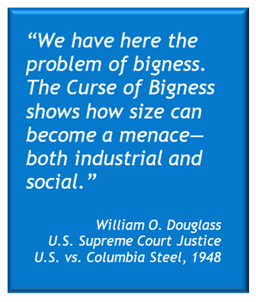 The 'Problem of Bigness'
As Supreme Court Justice William O. Douglas observed during a huge antitrust case against Columbia Steel in 1948, "We have here the problem of bigness. The Curse of Bigness shows how size can become a menace--both industrial and social."
"The philosophy of the Sherman Act is that industrial power should be decentralized," he wrote in his opinion on the case. "It should be scattered into many hands so that the fortunes of the people will not be dependent on the whim or caprice, the political prejudices, or the emotional stability of a few self-appointed men."
His words are as relevant today as they were in 1948.
Equally as compelling were the words of Senator John Sherman a half-century earlier, when the Sherman Antitrust Act was passed almost unanimously by Congress in 1890.
The first, cornerstone antitrust legislation in the U.S., the Sherman Antitrust Act made restraint of trade and monopolies illegal and authorized the Department of Justice to prevent those illegal activities and impose penalties. Said Sherman, famously, "If we will not endure a king as a political power, we should not endure a king over the production, transportation, and sale of any of the necessaries of life."
Legislative Response to Big Tech in the U.S.
Five new pieces of legislation have been proposed in the U.S. Congress by members of both parties. Their intention is to level the playing field and hold big technology firms to the same standards and laws as other companies.
The bills follow an extended investigation by the House of Representatives' antitrust subcommittee focusing on competition in the digital marketplace. The chair of the subcommittee, Rep. David Cicilline (Dem-RI), has stated that unregulated tech monopolies have too much power over the economy. "They are in a unique position to pick winners and losers, destroy small businesses, raise prices on consumers, and put folks out of work," he said.
According to a June 11, 2021 press release promoting "A Stronger Online Economy: Opportunity, Innovation, Choice," the five bipartisan bills drafted by lawmakers on the House antitrust subcommittee propose to regulate technology behemoths, known as "dominant platforms," in a variety of ways.
Overview of Five House Bills
Following is an overview of the five proposed bills:
American Innovation and Choice Online Act. Prohibits discriminatory conduct by dominant platforms and includes a ban on self-preferencing and picking winners and losers online. This bill is sponsored by Chairman Cicilline and co-sponsored by U.S. Rep. Lance Gooden (Rep-TX).
Platform Competition and Opportunity Act. Prohibits dominant platforms from acquiring competitive threats, and also prohibits acquisitions that expand or entrench the market power of online platforms. Sponsored by U.S. Rep. Hakeem Jeffries (Dem-NY) and co-sponsored by Ranking Member Ken Buck (Rep-CO).
Ending Platform Monopolies Act. Eliminates the ability of dominant platforms to leverage their control across multiple business lines in order to self-preference and to disadvantage competitors in ways that undermine free and fair competition. Sponsored by U.S. Rep. Pramila Jayapal (Dem-WA) and co-sponsored by U.S. Rep. Lance Gooden.
Augmenting Compatibility and Competition by Enabling Service Switching (ACCESS) Act. Promotes competition online by lowering barriers to entry, and lowering the costs for businesses and consumers to switch providers, by implementing interoperability and data portability requirements. (Interoperability and data portability are also central achievements of HIPAA legislation in the healthcare industry.) Sponsored by U.S. Rep. Mary Gay Scanlon (Dem-PA) and co-sponsored by U.S. Rep. Burgess Owens (Rep-UT).
Merger Filing Fee Modernization Act. Updates the fees businesses must pay to apply for mergers to ensure that the Department of Justice and Federal Trade Commission have the resources they need to aggressively enforce the antitrust laws. Sponsored by U.S. Rep. Joe Neguse (Dem-CO) and co-sponsored by U.S. Rep. Victoria Spartz (Rep-IN).
Sample Content of Bill
Drafts of each bill are posted as PDFs on Chairman Cicilline's website. As an example of the content of these proposed bills, the following are a few of the proposed violations outlined in Section 2 of the American Choice and Innovation Online Act.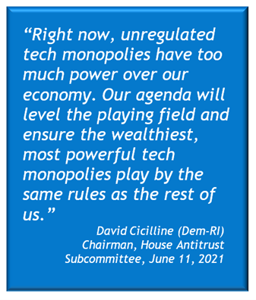 This bill makes it unlawful for a person operating a covered platform to engage in any conduct in connection with the operation of the covered platform that meets certain criteria.
Specifically, it is unlawful to:
Exclude or disadvantage the products, services, or lines of business of another business user in favor of the covered platform operator's own products, services, or lines of business.
Discriminate among similarly situated business users.
Use non-public data obtained from or generated on the platform by the activities of a business user or its customers that is generated through an interaction with the business user's products or services to offer or support the offering of the covered platform operator's own products or services.
Restrict or impede users of a covered platform from un-installing software applications that have been preinstalled on the covered platform, or changing default settings that direct or steer covered platform users to products or services offered by the covered platform operator.
In connection with any user interfaces, including search or ranking functionality offered by the covered platform, treat the covered platform operator's own products, services, or lines of business more favorably than those of another business user.
Interfere or restrict a business user's pricing of its goods or services.
Retaliate against any business user or covered platform user who raises concerns with any law enforcement authority about actual or potential violations of State or Federal law (i.e., whistleblower protection).
These are just a representative sampling of the type and scope of restrictions that will be imposed on the largest technology platforms as a result of the passage of this legislation.
Any or all of these bills must win approval in both houses of Congress before being signed into law by the President, which is generally expected to occur in 2022.
Legislative Response in the EU

Like the U.S., the European Union is experiencing the ill effects of antitrust behavior in the digital marketplace, particularly at the hands of the big four of Big Tech (Amazon, Apple, Facebook, and Google).
The Italian Competition Authority, which is Italy's equivalent of the U.S. Federal Trade Commission (FTC), has fined Amazon nearly $1.3 billion for abusing its dominant market position to boost its e-commerce logistics business. The regulator previously fined Amazon $77 million for undertaking to limit the supply of certain high-tech products on Amazon's e-commerce site. (In the U.S., the FTC fined Facebook $5 billion in 2019 for multiple failures to protect data privacy.)
In a November 23, 2021, press release, the European Parliament announced and outlined a Digital Markets Act, which is intended to end the unfair practices of Big Tech, in particular the big online platforms. The draft legislation prohibits "certain practices of large platforms and enables the Commission to carry out market investigations and sanction non-compliant behaviors."
The Internal Market and Consumer Protection Committee voted nearly unanimously in favor of supporting the proposed act. "The EU stands for competition on the merits, but we do not want bigger companies getting bigger and bigger without getting any better and at the expense of consumers and the European economy," said Andreas Schwab, Committee Coordinator. "Today, it is clear that competition rules alone cannot address all the problems we are facing with tech giants and their ability to set the rules by engaging in unfair business practices. The Digital Markets Act will rule out these practices."
Overview of the EU Act
The Digital Markets Act imposes new requirements and prohibitions on the major 'gatekeeper' companies that provide core platform services that are most prone to unfair practices. The Act names online intermediation services, social networks, search engines, operating systems, online advertising services, cloud computing, and video-sharing services as well as web browsers, virtual assistants, and connected TV.
To fall under the scope of the Act a company must:
Produce €8 billion in total annual revenues in the European Economic Area (EEA),
Have a market cap of €80 billion,
Provide a core platform service in at least three EU countries, and
Have at least 45 million monthly end-users and more than 10,000 business users.
The Commission also has the discretion to designate other companies as gatekeepers when they meet certain conditions.
The Act also centralizes enforcement by the EU Commission in cooperation with individual member nations and places restrictions on massive or monopolistic acquisitions. It establishes fines for violators that range from a minimum of 4% up to 20% of total annual revenues.
Like the U.S. legislation, the EU Digital Markets Act will move through the required approval process during 2022 and is expected to be approved essentially in its current form.
Summary
Both the United States and the European Union are moving aggressively to enact legislation that will regulate the market behavior of the giants of our technology age. Not since the Sherman Antitrust Act of 1890 have so many lawmakers been so united in their mission to bring excessively large and powerful companies under regulatory control.
The Digital Markets Act in the EU mirrors five federal, bipartisan acts in the U.S. as well as several individual state-sponsored antitrust laws. The laws have been carefully considered, and promise to set new standards for transparency, online open-market competition, and end-user flexibility. Together, they will help to end Big Tech bad behavior on both sides of the Atlantic.
This exciting, modernized antitrust legislation bears watching in 2022. Subscribe to our blog to stay informed!