CyberSecurity starts at home!
CyberSecurity Awareness Month should last every day of the year!
Did you know that October is National Cybersecurity Awareness Month? In fact, many colleges have dedicated CyberSecurity days to educate students on the risks associated with social media, cyber predators, cyberbullying, identity theft and to give them the tools to recognize inappropriate or illegal postings, scams and hoaxes. While Universities have taken on this responsibility, it is up to each one of us to learn and practice CyberSecurity Awareness every single day.
National Cybersecurity Awareness month is sponsored by the National Cyber Security Division of the Department of Homeland Security and National Cybersecurity alliance, a non-profit alliance. National Cybersecurity awareness month is celebrating its 15th year of observance this year. Europe has a similar observance in October and Norway has its own version of National Cybersecurity Awareness month as well. Former President Barack Obama stated, "Cyber threats pose one of the gravest national security dangers the United States faces." This is why it is so important that you and your company not only understand what Cybersecurity is, but also know how to practice online safety, protect your information and integrate Cyber hygiene into your everyday life.
How can you stay safe online? Check out our video series Tip of the day!
Mix it up! Change your passwords!
Use different passwords for social networking sites, email accounts and other sites like online banking or bill pay sites.

Never use the same password for different devices and accounts.

Be sure to choose a strong password and change your passwords every 3 months.

Passwords should contain letters, numbers and a special character and should be something only you know.
Secure your hardware:
Always update your operating system and browsers, use the automatic update feature to be sure your computer is protected.

Use antivirus and anti-malware software programs and a firewall to protect your computer. If you are using a mobile device, be sure to use a password or thumbprint/facial recognition for access and enable two factor authentication.
There are effective free software programs you can use to encrypt your data. Many cell phone manufacturers also offer encryption options as part of phone settings. The newer Windows and Mac operating systems also have encryption options built in, that you can set up and turn on.
Always password protect your wi-fi network with a strong password.
What can you can do to protect your personal information online?
Be cautious, always double check the sender's email address when you receive an email from companies that you regularly do business with to ensure that it is not an impersonator.
Phishing emails mock the sites you know and trust to steal your information. Before clicking on any link you receive, hover over it to see what the link URL is. Is it the same URL that you normally go to? Who is the sender of this email? Is it an unknown sender?
Check for the secure symbol on your browser, when you are visiting a secure website you should see a lock symbol in the upper left hand corner of your browser's address bar. You will also notice the domain starts with "https".
Protect your passwords, be sure no one else can access your personal accounts. Never write down or share your passwords in emails or documents.
Be careful what you share! By sharing personal information publicly you are giving clues to your passwords and other personal information that can be used to gain access to your accounts.
Cyber hygiene is a practice to adopt and keep for a lifetime. Integrate online safety planning into your family's safety awareness planning. Teach your children as soon as they start accessing personal devices about the dangers online. Discuss with your family the security of your network and devices and the importance of not sharing access codes or passwords. Come up with a safety plan for incidents like cyberbullying, cyberstalking, phishing, virus and malware attacks. Discuss as a family the importance of protecting personal information online. By integrating cyber hygiene into your daily routine you greatly reduce the risk of falling victim to a cyberthreat like hacking and malware.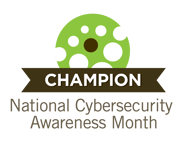 24By7Security, Inc. is proud to be a National Cybersecurity Awareness Month Champion and a STOP. THINK. CONNECT. partner!