HITRUST Readiness Licensee Now Available to Help Clients in Adopting the HITRUST CSF Framework
Our readers know that 24By7Security is a highly credentialed cybersecurity and compliance firm based in South Florida, with clients nationwide across virtually all industries. What you may not know is that we recently earned our license to provide HITRUST Readiness Services to clients in the public and private sectors.
As a HITRUST Readiness Licensee, 24By7Security is authorized to perform consulting and readiness services for organizations desiring to adopt the HITRUST CSF Framework or prepare for a validated information assurance assessment. We are able to assist clients in implementing the CSF, conducting remediation activities, and preparing for a successful HITRUST Assessment.
Working with HITRUST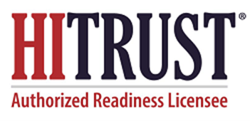 The team at HITRUST have been responsive, supportive, and excellent to work with not only as we sought to achieve our license but also as we have begun to offer our HITRUST Readiness Services to organizations. 24By7Security has conducted more than 2,500 risk assessments, including HIPAA assessments in the healthcare industry. Our assessment and remediation experience encompasses regulations and standards ranging from ISO/EIC, NIST, and HIPAA to CMMC, GLBA, PCI, and others.
"24By7Security has demonstrated their expertise in the HITRUST CSF Framework and in providing readiness assessments and remediation support for their clients," said Matthew Datel, HITRUST Director of Strategic Partnerships. "We are delighted to welcome 24By7Security to our Readiness Licensee program."
HITRUST was founded in 2007 to promote programs that help organizations safeguard sensitive information and manage their information risk. In collaboration with security leaders in both public and private sectors, HITRUST develops, maintains, and provides broad access to its widely adopted risk and compliance frameworks and related resources.
Licensed and Ready to Assist - not only HITRUST Readiness, but also CMMC Readiness and PCI Qualified Security Assessor
Sanjay Deo, President of 24By7Security and recipient of a Lifetime Achievement Award from the President of the United States in 2022, helped to drive the company's initiative to become a HITRUST Readiness Licensee.
In his words, "We are proud to have earned our Readiness License from HITRUST. The HITRUST CSF Framework is an excellent option for organizations committed to implementing comprehensive, effective cybersecurity programs. HITRUST Readiness Services help them avoid costly missteps and achieve their objective efficiently."
In addition to the HITRUST Readiness License, 24By7Security maintains credentials as a Registered Provider Organization, authorized by the Cyber AB to provide CMMC readiness services toward Cybersecurity Maturity Model Certification for Department of Defense contractors, and as a Qualified Security Assessor Company, authorized to assess clients against the Payment Card Industry Data Security Standard and certify their compliance.
Summary
For organizations looking to adopt the globally accepted HITRUST CSF Framework, HITRUST Readiness Services from a HITRUST Authorized Readiness Licensee are designed to help you achieve that goal and demonstrate compliance with the various regulatory requirements that apply to your specific industry.
Other resources available to you include a complete portfolio of cybersecurity and compliance services in a wide range of industries, from healthcare and financial services to education and defense, among others. The experienced, highly credentialed staff at 24By7Security include Virtual CISOs, CMMC Registered Practitioners, Certified Information Security Systems Professionals, Healthcare Information Security and Privacy Practitioners, Certified Information Systems Auditors, Certified Data Privacy Professionals, and others.
To learn more about HITRUST Readiness Services, call us at 844.552.9237.