We know that times of uncertainty can be bewildering, so we wanted to share with you Quarantine Times 2020, a playlist featuring some of our favorite songs. 🎵🎵
With the coronavirus (COVID-19) pandemic sweeping the globe, and radically altering the way we now live and work, we figured a nice digital listening experience might help ease your mind. You can find the link at the end of this post.
Social Distancing in Effect
Our team is practicing social distancing to help flatten the curve of the virus' spread. We are working from home, and are finding ways to get through the day. Music. Tai Chi. Walks around the block with our dogs. You name it.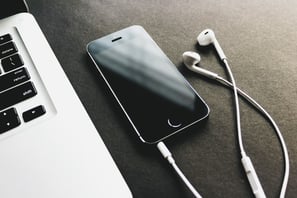 Admittedly, we are a diverse group, with varying musical tastes, as you'll experience in our curated playlist.
We've picked songs spanning different genres and eras. The mix includes toe-tapping dance numbers, atmospheric classics, sounds of rock, pop, along with a dash of punk and new alternative.
While this blog is off-script of what we typically publish, we thought to go off-script because of how much our worlds have changed. Instead of business as usual, business is becoming unusual.
We are here for you
If you ever need us, we can do our meetings remotely through Zoom video calls if you wish. We are even specialized in conducting remote security risk assessments. We also are here if you need to talk about any compliance and cybersecurity matters that might arise.
Please note that cybercriminals are exploiting this public health matter, by spreading malware, as reported by Krebs on Security. You can read his report here.
In times of crisis, communication and knowing the facts are essential. Please follow guidance from the Centers for Disease Control.
The entire team at 24By7Security is committed to helping you keep your data safe and compliance in check. Read our COVID-19 update here. Thank you for continuing to trust 24By7Security. If you have any questions or concerns, please reach out at any time.
Turn it up 🎧
For now, enjoy listening to Quarantine Times 2020: