Why It's Happening In Large Companies and Small Businesses
Any organization of any size can now enjoy the full advantages of a Chief Information Security Officer through the convenience of a virtual security executive.
Using the services of a part-time or virtual Chief Information Security Officer can mean the difference between maintaining a solid cybersecurity program—or allowing threats and vulnerabilities to jeopardize your business.
At the Enterprise
Large enterprises generally have large C-suites of executives. The CEO, CFO, and COO are fundamental. A Chief Marketing Officer, Chief Information Officer, Chief Customer Officer, Chief Technology Officer, Chief Human Resource Officer, and Chief Information Security Officer typically round out the C-suite in one combination or another.
The CISO is specifically responsible for developing and implementing an information security program. This role requires keeping up with the latest cybersecurity exploits, security trends, and security solutions. It is a position requiring strategic thinking and vision as well as tactical expertise in information security and cybersecurity.
At the SMB
Smaller and mid-size companies may not have as many of these C-roles. Instead, an owner, president, general manager, or operations director may be responsible for security, information, and technology in addition to the daily management of the business.
This can present a serious challenge to leaders who are already juggling more functions than they should. In addition, information security can be complicated and overwhelming for those not specifically educated in this field.
An Answer for Both
The part-time or virtual CISO is the perfect answer for SMBs who desperately need robust information security programs developed, maintained, or enhanced but lack the internal resources to do it themselves.
It is also the perfect answer for larger organizations who may find themselves in between CISOs in the C-suite. The recruiting, interviewing, vetting, negotiating, and hiring process at the C-level can take many months, given the levels of experience, expertise, and strategic and tactical thinking required of the role. A virtual CISO is an effective means of bridging the gap quickly and maintaining robust cybersecurity in the interim.
A virtual CISO, or VCISO, is a third-party resource that manages your company's cybersecurity program. The VCISO operates on a part-time or fractional basis, with much of the role able to be performed remotely or virtually.
Top Benefits of a VCISO
Several advantages of hiring a virtual CISO are immediate and compelling.
Remote Work.

Being able to work virtually reduces commuting and other travel expenses. Remote work is also a timely benefit during the pandemic. And remote meeting tools such as Zoom or MS Teams enable the VCISO to meet with company personnel, share information, make presentations, review reports and otherwise be virtually present in your company.

New Views.

A VCISO brings fresh security perspectives to the table, based on years of experience in the cybersecurity field and in assisting many other clients in implementing information security programs. An experienced VCISO has, literally and virtually, seen it all.

Bench Strength.

A VCISO who is part of a cybersecurity firm brings a special advantage to your company that a solo consultant cannot. Access to the full weight and resources of the cybersecurity firm is readily available to you as needed. You may hire a VCISO, but you get a team.
The Downside of Hiring a Permanent CISO
In addition to these compelling benefits, there are two reasons why permanent in-house CISOs are being replaced, in many instances, with virtual CISO services.
High Demand. Cybersecurity has become a top priority for organizations that collect, use, share, and store vital information. With the surge in cybercrime and data breaches and the increasing complexity of attacks, companies who wish to implement a comprehensive set of controls and technology to safeguard their data must have a C-level information security executive. Without going through the permanent hiring process, a VCISO allows any organization to fill the C-level role immediately and avoid lapses in security.
High Cost. Typically, CISOs earn in excess of $200,000 per year, according to salary.com and similar sources. They also enjoy expensive C-level perks provided by the organization. So, while almost every company requires a CISO, not every company can afford one. Organizations can avoid the cost of a permanent, full-time CISO by using a virtual CISO.
VCISO Plan Options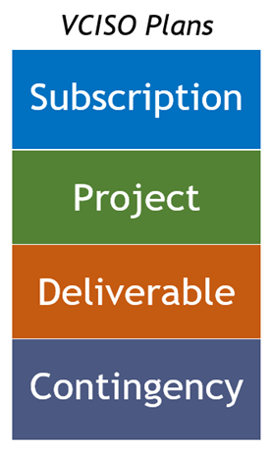 The VCISO solution has taken firm root in the past two decades as organizations have acutely focused on right-sizing staff, reducing payroll, avoiding capital expenditures, and outsourcing a wide variety of services.
Concurrently, VCISO models have evolved to offer flexible plans that can accommodate any preference. The VCISO service may deliver all of the components necessary to implement a complete security and governance program. Alternatively, the service may be customized to meet a particular need or needs by delivering select security elements.
Following are four specific plan options to consider:
This VCISO plan provides service on a subscription basis, such as a one-year contract or another specified timeframe.

The virtual CISO service may be provided on a project basis, such as implementing

a NIST cybersecurity framework or conducting a

security risk assessment

.

Alternatively, a fixed-fee, deliverable-based plan enables you to obtain a very specific deliverable, such as an incident response plan, for a fixed price.

A VCISO service will often offer a contingency option, whereby your organization can purchase a segment of unassigned hours. These hours can be used on an ad hoc basis to address specific needs that may arise unexpectedly and are outside the scope of your subscription, project, or deliverable plan.
The type of VCISO plan that is most suitable for your business will depend on several factors. These include urgency (such as active compliance violations or severe vulnerabilities that demand immediate attention), budgetary considerations, timing or scheduling factors, and other variables that may be unique to your business.
Learn More at Our Webinars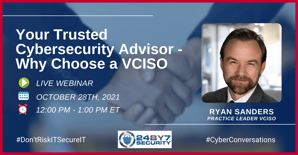 24By7Security provides Virtual CISO services to a variety of organizations. We host frequent webinars on topics related to VCISO programs as well as other cybersecurity subjects.
Our upcoming webinar addresses how a good VCISO program will provide top-level talent and utilize a fixed-fee, deliverable-based model to control cost. The webinar will be hosted this Thursday, October 28 from Noon to 1PM Eastern Time. You can register here.
By attending this webinar, you may be eligible for CEUs or CPE credits. Please check with your professional association and its policies to determine applicability. A Certificate of Completion can be downloaded from BrightTALK upon viewing the webinar in its entirety.
Summary
We have a wealth of useful materials available on the Virtual CISO. In addition to webinars, you can listen to a podcast about Virtual CISOs or access our latest white paper, newsletter, or other free resources.
Or, contact us today to get started with your own Virtual CISO. We can generally begin within two weeks of a signed agreement, so there's no need to jeopardize your information security any longer.