Daixin Ransomware Group Actively Targeting Public and Private Healthcare Organizations with Data Theft, Ransom Demands
The Federal Bureau of Investigation (FBI), Cybersecurity and Infrastructure Security Agency (CISA), and Department of Health and Human Services (HHS) in October 2022 released a joint Cybersecurity Alert about the Daixin Team. Daixin is a cybercrime gang aggressively targeting U.S. businesses, predominantly in healthcare and public health, with new ransomware attacks and data extortion schemes.
Healthcare organizations are frequent and popular ransomware targets for a variety of reasons. Through October 2022, healthcare accounted for 25% of all ransomware complaints submitted to the FBI Internet Crime Complaint Center (IC3). For the year 2021, healthcare ransomware complaints totaled 23%, the most reports from any sector that year.
How Daixin Gains Access to Your Healthcare Data
According to the Alert, Daixin hackers gain access to sensitive data in healthcare networks and systems in several ways, including:
Once Daixin has obtained unauthorized access to your VPN servers, they can move laterally within your system via Secure Shell Protocol (SSH) and Remote Desktop Protocol (RDP).
They may access privileged accounts through credential dumping and 'pass the hash' techniques. Then, they can use the compromised accounts to access your VMware vCenter Servers and reset account passwords for VMware ESXi servers in the environment. Finally, they can employ SSH to connect to your ESXi servers and install ransomware on them. Boom.
In addition to launching new ransomware attacks, Daixin hackers may exfiltrate data from your servers. They have been known to use an open-source program called Rclone, which manages files in cloud storage, to move data to their own dedicated virtual private servers as well as Ngrok, a reverse proxy tool, to exfiltrate data.
What You Should Do to Reduce Your Risk
The FBI, CISA & HHS Alert of October 2022 urges healthcare organizations to take immediate actions to safeguard their systems against the growing ransomware threat and related malicious activity. Most of this guidance isn't new—it simply needs to be implemented.
In addition, the Alert urges all organizations, whether in healthcare or other industries, to follow recommendations to prepare specifically for ransomware attacks.
Preparing for New Ransomware Attacks
Take advantage of all available expert resources, such as the CISA Ransomware Guide and Fact Sheet entitled Protecting Sensitive and Personal Information from Ransomware-Caused Data Breaches. This resource offers guidance for creating a ransomware response checklist, and for planning and responding to data breaches caused by ransomware attacks.
Responding to a Ransomware Attack
In the event that your organization experiences a ransomware incident, the FBI, CISA & HHS Alert provides the following advice.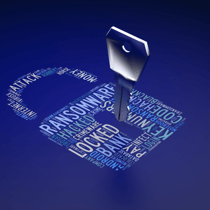 It is important to understand that the FBI, CISA, and HHS strongly discourage paying ransoms to recover your data for several reasons. First, doing so does not guarantee the return of your files and records. Second, according to the Alert, making ransom payments may embolden hackers to target other organizations and continue to spread ransomware. Third, paying ransoms for your data can encourage other cybercriminals to expand their operations to include ransomware exploits. Finally, paying ransoms can help to fund other illicit or criminal activities.
Summary
Healthcare organizations continue to be frequent and popular ransomware targets, and new ransomware attacks launched by Daixin honor the tradition. Through October 2022, healthcare accounted for 25% of all ransomware complaints submitted to the FBI Internet Crime Complaint Center (IC3). In 2020, healthcare accounted for 77% of all data breaches affecting 500 records or more, including ransomware and all other attack vectors.
The FBI, CISA & HHS Joint Alert published in October 2022 provides actionable guidance for safeguarding your organization from Daixin and other ransomware rings. CISA offers numerous free resources for guidance in securing your data. Assistance is also available from expert sources who specialize in the healthcare industry and HIPAA compliance, such as 24By7Security. Several global cybersecurity frameworks have been streamlined recently to make it even easier to comply with healthcare data security and privacy regulations. With so much help available, there is no excuse for healthcare organizations to allow themselves and their patients to be victimized by hackers, attackers, and other bad actors.